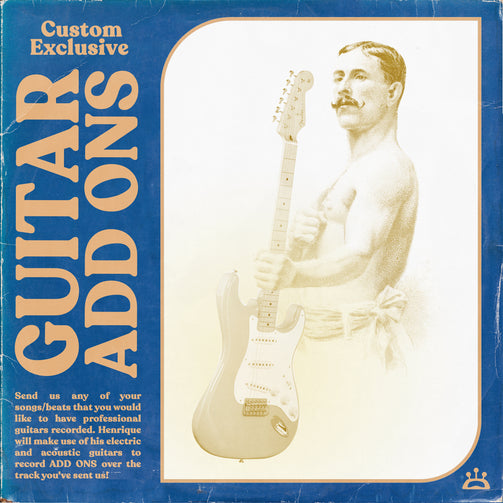 CUSTOM EXCLUSIVE GUITAR ADD ONS
CUSTOM EXCLUSIVE GUITAR ADD ONS
Regular price

€80,00 EUR

Sale price

€80,00 EUR
Tax included.
Send us any of your songs/beats that you would like to have professional guitars recorded. 
Henrique
 will make use of his electric and acoustic guitars to record ADD ONS over the track you've sent us!
Here's how it works:
The professional guitar takes can include: chords, licks, rhythm fills, riffs or solos. Specify all the characteristics that you'd like

 

Henrique

 

to play along with whatever details you'd like to add on your song/beat.
Please select how many tracks you want to have custom guitar adds recorded on. DISCOUNTS are available if you need more than one track to be blessed with Henrique's unique guitar tones.
Send an email to musicbygoias@gmail.com with your beat/song/track (MP3 or WAV + BPM labeled) attached. Type in the subject "GOIAS GUITAR ADD ONS_your producer name".
If you release a track using our Guitars you will clear usage with us depending on how big of a part the Guitar Add Ons are in the song. Usually between 5% and 15% publishing (negotiable).
We typically allow one revision and the usual turn-around time is 72 hours to a week (based on scheduling and back up orders).
Contact us for more details.


TESTIMONIALS FROM PREVIOUS CUSTOMERS:
"One of the best services I had in the music industry! If you don't know how to play guitar, GOIAS can easily provide with the help you need! Made a 100% difference on my instrumentals. The stems were easy to work with and the best result I got was getting placements! Super proud, keep it up boys!"
Noizemakers
"Henrique is an incredibly talented musician! I asked for his help with some guitars on a track I was working on, and he delivered multiple variations and ideas, all of which oozed soulfulness and perfectly fit the vibe I was going for. I really appreciate how he experimented with different riffs and provided so many takes. It was like going to a jam session! I will absolutely become a repeat customer because I truly like Henrique's playing and ideas!"
Ragnar
"Excellent work! Provided a variety of options and really improved the track immensely!" 
nmc33
Couldn't load pickup availability