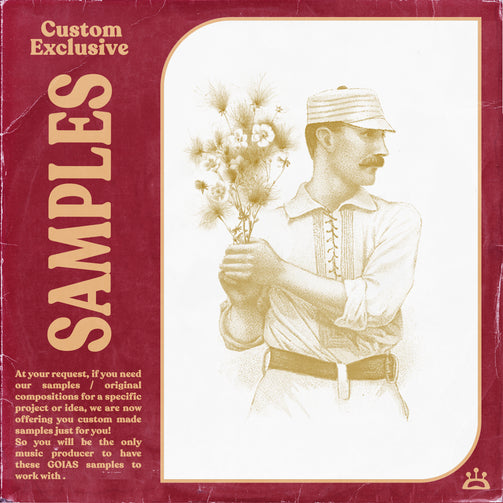 CUSTOM EXCLUSIVE SAMPLES
CUSTOM EXCLUSIVE SAMPLES
Regular price

€150,00 EUR

Regular price

€150,00 EUR

Sale price

€150,00 EUR
Tax included.
At your request, if you need our samples/original compositions for a specific project or idea, we are now offering you custom made samples just for you! So you will be the only music producer to have these GOIAS samples to work with (no more confusion or hassle of other producers using the same samples).


Here's how it works:
When ordering the pack, please give us a

 

briefing

 

regarding the vibe, genre, and reference examples you have in mind. Send to musicbygoias@gmail.com a Spotify/Youtube/Soundcloud link of songs that you would like us to take inspiration from along with whatever details you'd like to add (BPMs, instruments used, keys, etc.). Type in the subject "GOIAS EXCLUSIVE SAMPLES_your producer name".
To handcraft an original composition from scratch

 

Henrique

 

will book a whole day in his schedule in order to compose, produce and mix the samples based on your criteria.
To achieve our sound we use the electric guitars Ibanez AS93 and Fender American Stratocaster, a Fender Hot Rod DeVille 212 Valve Guitar Amp, an acoustic guitar Martin DRS1, a Guitalele, a Sire Marcus Miller Bass, vintage synthesizers emulations, the layering of vocals and several effects pedals such as an Ibanez TS9 Classic Tubescreamer, a TC Electronic Flashback Delay & Looper, a VOX Wah Wah V847, a DigiTech Whammy, an Electro Harmonix POG2 and KEY9 Electric Piano Machine and a Boss VO-1 Vocoder.
Master Clearance Guaranteed. Read the License

 

Here.
Our usual turn-around time is one week (based on scheduling and back up orders).
Feel free to contact us for more details.
TESTIMONIALS FROM PREVIOUS CUSTOMERS:
"These two brothers make some of the best music I've heard. GOIAS only delivers quality and that translates every time with every pack I've received from them, not only incredible musicians but also amazing people. Excited to see what the future holds and honored to have worked with them!"
NAMI
 (Producer)
"Working with GOIAS is so inspiring. What they create puts you in a certain mood and straight away paints you a scenery. This makes the process of developing a beat or a song way easier."
Lhast
 (Artist/
Producer)
"The GOIAS samples are the go to! Whether they have added to my production or provided samples they provide a unique sound that elevates the sonics."
TenBillion Dreams
(Producer)
"The samples are unique, slightly different to what I'm used to hearing around, each ones taking me somewhere different."
11lit3s
 (Artist/
Producer)
"More than musicians, GOIAS creates feelings. Their melodies touch everyone."
Dillaz
 (Artist/
Rapper/Producer)
Couldn't load pickup availability