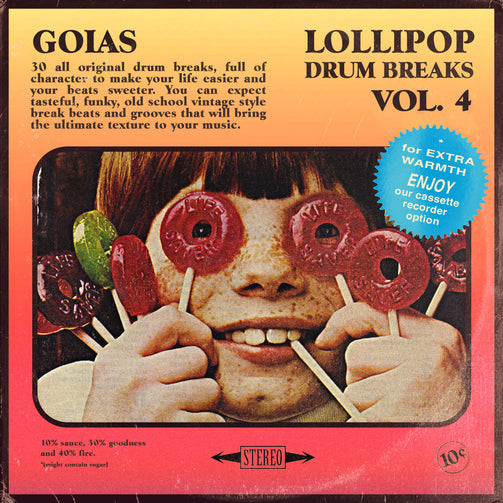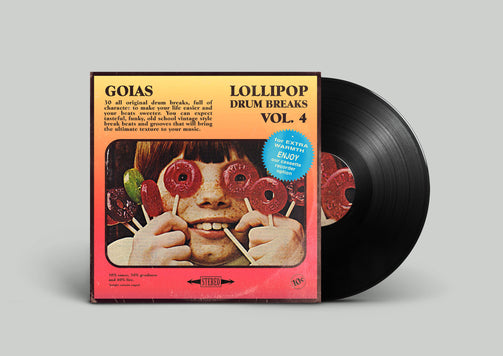 GOIAS 'LOLLIPOP' BREAKS Vol. 4
GOIAS 'LOLLIPOP' BREAKS Vol. 4
Regular price

Sale price

€12,99 EUR
Tax included.
Volume 4 of 'Lollipop' Breaks series is here!!!

This time around we used five mic set ups to record our brand new batch of 30 ALL ORIGINAL DRUM BREAKS.

Each break was played on a full live drum set with an unquantized, old school humanistic feel. As always, various types of tuning/dampening, trashy/vintage cymbals and different drum sticks (wooden tips, brushes, mallets, feather kick beater, etc...) were used.
So you'll have a plethora of sugary hi-hats, thumpy kicks, snappy snares and punchy off-the-grid "vintage" style break beats and grooves for you to choose!
You get:
30 DRUM BREAKS made for your looping or chopping pleasure
OPTIONAL BONUS FOLDER that includes ALL of the original mastered DRUM BREAKS RAN THROUGH A CASSETTE RECORDER! (only if you select "

WITH Cassette Breaks

")
Almost all of the breaks includes drum fills to make those transitions and drops sound on point every time
Compatible with any DAW
ROYALTY-FREE
Please note: This pack contains drum breaks ONLY, other sounds contained within the demo/preview track are for illustration purposes only.

Couldn't load pickup availability